Advice, Layout, Printing
We will develop for you...

We will gladly assist you
...a complete corporate image or components of your company's image, e.g. logo, letterhead and envelopes all the way to the lettering and design on your company fleet and points of sale. We work with German as well as Arab fonts. We will work together with you and advise you to achieve the best possible printed results.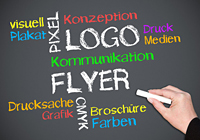 Layout – everything that can be designed
We will conceive and design advertising text and layouts tailored to your company's products and geared to your target market.
Corporate Image: Logos, Company Slogans, Letterheads
Concept, Text, Layout for Ads, CD Booklets, Brochures, Flyers, Shopfront Design, etc.
Text translations into English and Arab languages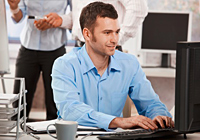 A wide range of printed products and processes
AzzawiMediaPrint has its own presses and everything on paper we print in house. We offer a wide range of printed products and processes. We fulfil special printing requirements through our outsourcing partners and we oversee all projects to final delivery.